Creatives on Campus is a mentorship, lifestyle brand, and job placement program for emerging college students, drop-outs, and recent graduates.
OUR MISSION is to foster creative community among multi-level students around the world, beginning at the top-level downward.
OUR VISION is to cultivate well-rounded, pioneering innovators into the future workforce through creative and dynamic programming efforts.
Making Room for Creatives on Campus Winter Meet-Up.
Hosted at Uncle Bobbie's Coffee & Books.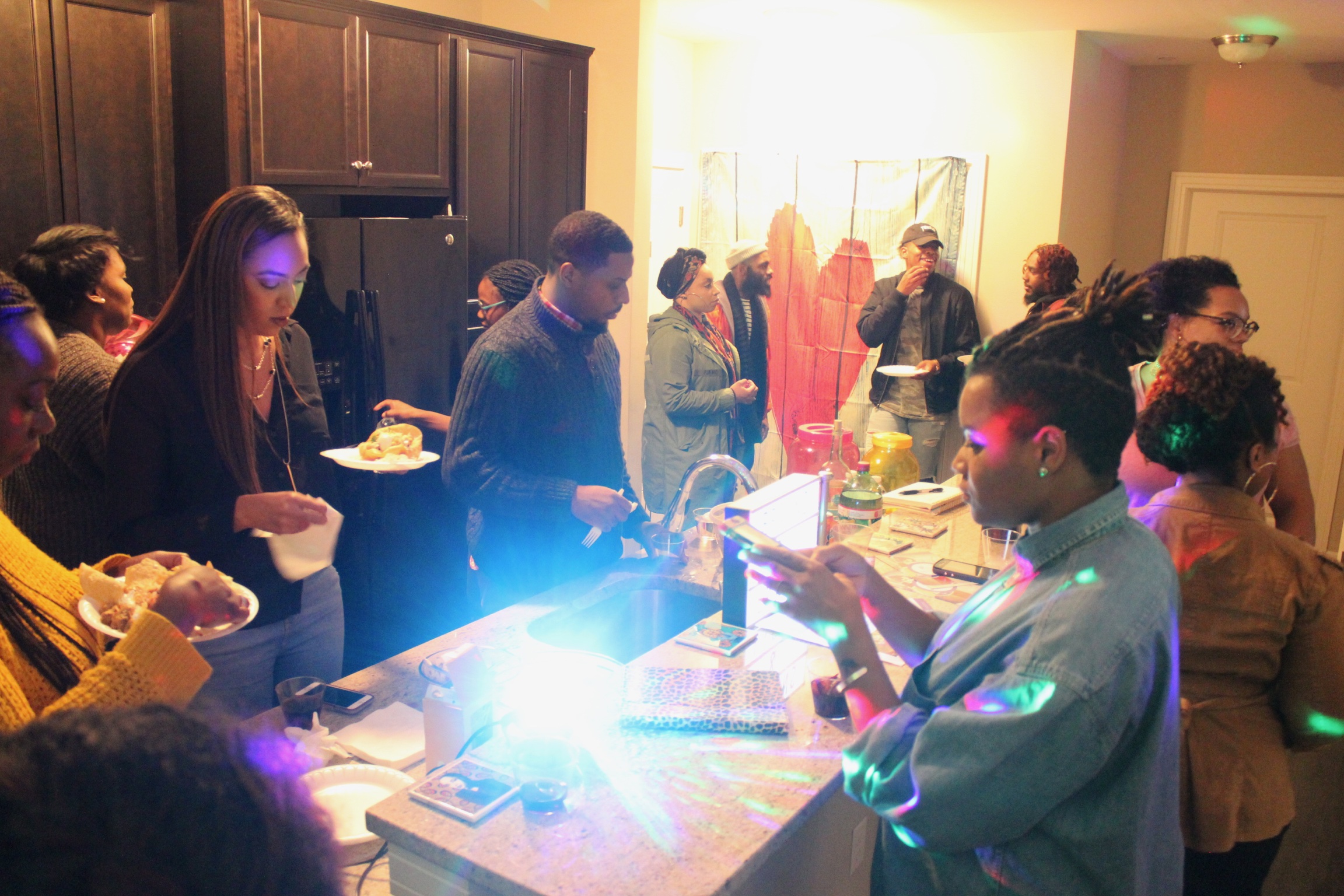 Participants gather for Brains & Lyrics Vol. 1: Is This Love?
Hosted in Brittanie Tea's home.
We serve as a bridge between the creative community and youth & adult-learner experiences.
Participants experience the dope vibes of their favorite creative brands within intentional, educational learning experiences.
ABOUT: Our program brings awareness to the growing number of students empowered to use their personal stories as a vehicle for entrepreneurship and social change.
We create space for student-creatives to explore and develop their personal brand stories. Paired alongside our Brains & Lyrics curriculum, students, brand leaders, and hopefuls deliver interpretive educational offerings as an emerging form of art-education. Our student participants take part in the ideation, learning, and planning of these customized projects and experiences.
benefits:
Health & Wellness - Our active learning approach provides many opportunities for students to positively cope within collaborative work spaces, using their strengths, gifts, and personal creative contributions ongoing.

Teaching & Learning - As a measure for learning, participants partner within lower-level student mentorship opportunities, leading many of the training and mentorship segments for middle and high-school students.

Brand Development - Whether supporting a brand leader with an assigned project initiative, or launching and developing their own ideas, students contribute significant value to growing brands.

Personal Development - True to the intent of art-education, our learning application begins practically, using foundational learning frameworks as a connector for more rigorous organizational application.

Workforce Development - Through our intensive development and programming, we are among those who talent-seekers will turn to for their primary staffing needs.
SPACE for Seekers and Sharers
Harold Edwards leads in a "circle song" experience at a recent Creatives on Campus meet-up.
SPACE for Seekers and Sharers (SfSS), a small, budding performing arts community of creatives and aesthetes who gather for a community singing practice called circlesinging—coined by a composer and vocal genius, Bobby McFerrin.
India Fenner,
Temple University Student
India is a student-creative attending Temple University and a participant of Drum Like a Lady. India is also the founder of Philadelphia's 1st Black Woman's March.
India performed alongside Drum Like a Lady founder, Latreice Branson, at The Lion King Philly private movie screening hosted by Happily Better After & The Better Give Back Foundation on July 18, 2019.
Our corporate sponsors and partners are the real MVP's of the Creatives on Campus brand! They understand that creatives need space to create, and that such space becomes a board room for future workforce roles, ideas, and inventions. If you are interested in joining us as an official partner or sponsor email us at creatives@happilybetter.com.