ABOUT: Creatives on Campus is a co-operative learning community and lifestyle program for emerging college students, drop-outs, and recent graduates.
OUR MISSION to foster creative community among multi-level students around the world, beginning with adult-learners.
OUR VISION: to cultivate well-rounded, pioneering innovators into the future workforce through creative and dynamic programming efforts.
Making Room for Creatives on Campus Winter Meet-Up.
Hosted at Uncle Bobbie's Coffee & Books.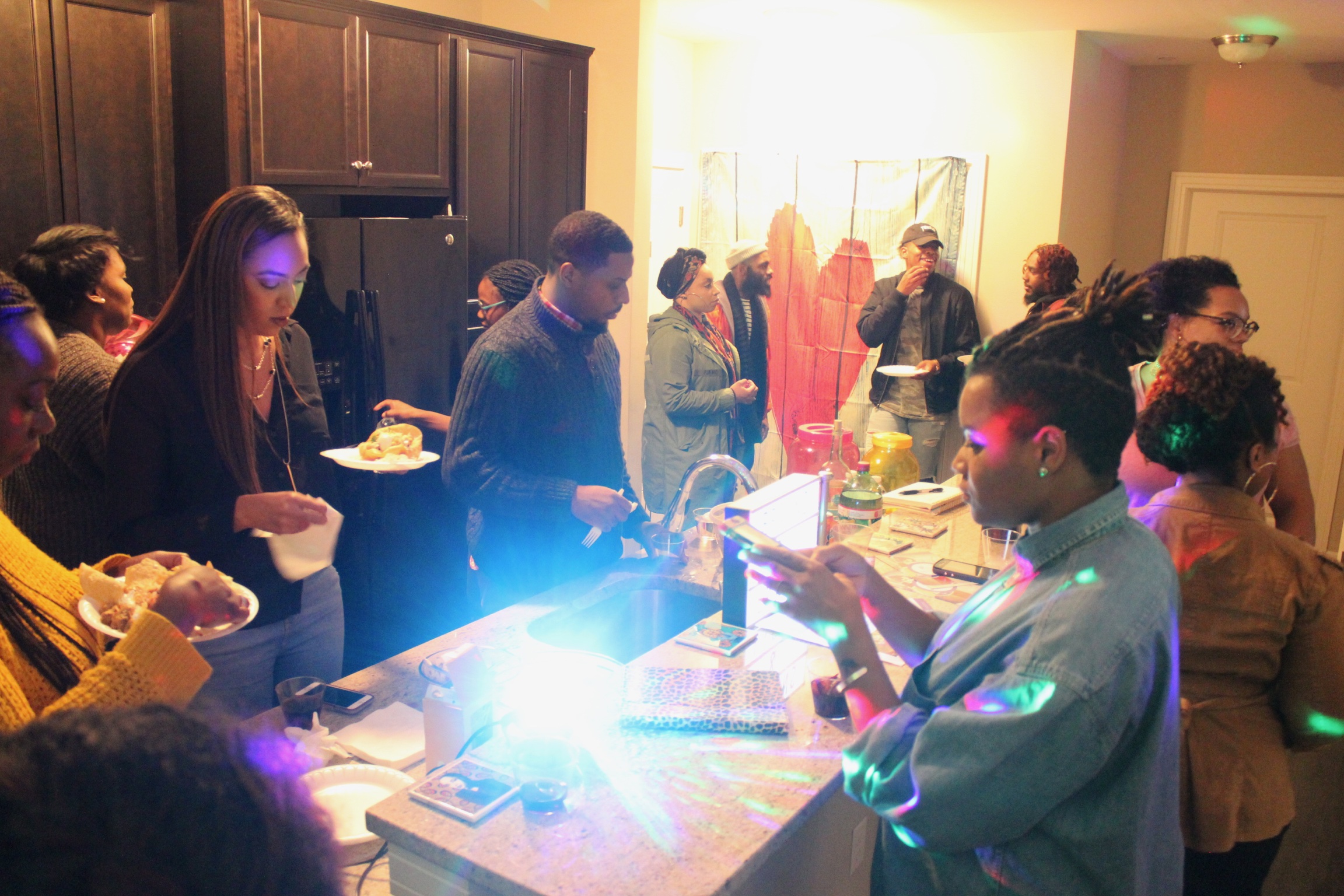 Participants Gather for Brains & Lyrics Vol. 1: Is This Love?
Hosted in Brittanie Tea's home.
COC is inspired by Brittanie Tea's personal story as a creative (singer, songwriter, and scholar).
According to the National Alliance of Mental Illness, 75% of those who will have a mental health disorder have had their first onset by age 25. Such research pairs our "WHY" for the work we do to cultivate creativity as a wellness intervention for the emerging.
2019-2020 Program Learning Goals & Benefits
Beauty, Health & Wellness- Our active learning approach provides many opportunities for students to positively cope within collaborative work spaces, discovering and applying their strengths, gifts, and personal creative contributions ongoing.

The Teaching & Learning Exchange - As a measure for learning, participants partner within lower-level student mentorship opportunities, leading many of the training and mentorship segments for middle and high-school students.

Brand Development - Whether supporting a brand leader with an assigned project initiative, or launching and developing their own ideas, students contribute significant value to growing brands.

Personal Development - True to the intent of art-education, our goal is to help participants discover the practical application of their coursework material.

Workforce Development - Through our intensive development and programming, we are among those who talent-seekers will turn to for their primary staffing needs.
"Our minds should be full of things that make us excited about our future self in the world." - @iambrittanietea
SPACE for Seekers and Sharers
Harold Edwards leads in a "circle song" experience at a recent Creatives on Campus meet-up.
SPACE for Seekers and Sharers (SfSS) is a small, budding performing arts community of creatives and aesthetes who gather for a community singing practice called circlesinging—coined by a composer and vocal genius, Bobby McFerrin.
India Fenner,
Temple University Student
India is a student-creative attending Temple University and a participant of Drum Like a Lady. India is also the founder of Philadelphia's 1st Black Woman's March.
India performed alongside Drum Like a Lady founder, Latreice Branson, at The Lion King Philly private movie screening hosted by Happily Better After & The Better Give Back Foundation on July 18, 2019.
Thank you to all of the contributors, partners, and sponsors who offer our student-creatives SPACE for teaching and learning experiences! For employment, partnership, and sponsor opportunities, email us at creatives@happilybetter.com.